The binary options market has always been one of the most attractive markets due to the simplicity of trading rules but now rules have changed in Europe traders are moving back into traditional Forex trading.
In other jurisdictions there are still many attractive bonuses are an essential part of almost all binary options brokers around the globe. The bonuses usually include welcome, deposit, and no-deposit bonuses. This review focuses on the no-deposit bonus in the binary options market and what makes it one of the favorite bonuses, especially among novel traders.
What is a No-deposit Bonus?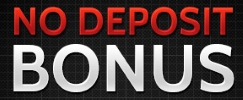 A no-deposit bonus is aimed at attracting new customers. It is targeted at newbies as stimulation, and for traders who would like to try their luck with a new broker. To obtain the bonus, traders just have to register an account, and the money will be automatically transferred to their trading account. The no-deposit bonus does not require traders to invest or deposit any money in advance. The no-deposit bonus is one of the most appealing bonuses in binary options as it excludes any investment on the part of the trader. The amount of the bonus varies from broker to broker. Usually it amounts to $20, $25, $30 or even $50. The bonuses sometimes amount to $100 or more, but that is rather an exception than a common practice. The bonus is a gift to new traders, who need to study the market a bit more, without being exposed to financial risks. You must ask yourself why the broker would offer a no deposit bonus. The first reason would be to attract new customers. The thing is it is more common in Binary Options Trading than it is in normal Forex Trading does that mean the odds of making money in Binary Options are worse?
The No-Deposit Bonus Requirements
The application procedure is very simple:
a.) Opening a real account
b.) Providing relevant documentation for verification of your account
c.) Click Claim the bonus (or get in touch to receive your bonus)
There are some rules to be followed, and brokers provide a detailed policy on the bonus use. Please take notice that the no-deposit bonus refers to trading credit money and cannot be withdrawn prior to trading. Some brokers reserve the right to deny, withhold, or withdraw the profits from the bonus if they suspect a trader is trying to abuse the promotion. Bonuses usually come with an expiry time. If you have applied for and been accredited a bonus, and you do not use it for a certain amount of time, it can expire. For example, the usual expiry time is 30 days, and if you have not used it within that period, the bonus becomes invalid. The bonus may exclude usage of some trader tricks and tactics, like hedging positions by using other accounts traders have with that particular broker or other brokers. Also, the use of automated assistance like expert advisors or scalping, signals, arbitrage, and other techniques, are not part of the deal, and are, under no circumstances, allowed. In order to withdraw the profits, traders have to have traded a specified amount of trades and reached the given trading volume set forth by the broker. In that respect, brokers usually specify a minimum amount that can be withdrawn (e.g. if you got a bonus of $30, the minimum withdrawal amount might be set at $60). Many brokers usually stipulate in the Terms and Conditions that they have the right to alter and modify the Bonus Terms and Conditions without having to explain the reasons for that. Also, the brokers have the freedom to decline an application for a no-deposit bonus with no further explanations. The bonus refers to a one-time opportunity, and traders cannot apply more than once for this kind of bonus, at least not under the same IP address. Traders and newcomers need to make sure to have read the requirements related to the no-deposit bonus before they apply for one.
Avoid Exploitation by Broker
In the big and decentralized binary options market, scammers have always tried to trick people into signing with them, under conditions which later turn out to be very poor. They act under false pretenses including the no-deposit bonus. Namely, many crooked companies advertise no-deposit bonuses with no intention to ever pay them out. Usually, these brokers never give precise conditions and instructions on the bonus policy, but simply place an attractive amount of money on their website to increase the number of their account users. After you register and apply for the bonus, you will probably be faced with a number of requirements which cannot be fulfilled in practice. They might also be designed in a way that you end up investing more to finally obtain the bonus, whereby the broker already made you cover for the bonus and perhaps even more. It is clear that for safety reasons and to minimize abuse, broker companies have to employ a set of rules to be followed, but many crooked brokers make that work to their advantage. This is the downside of the market in general, including the bonus policy. This could be one of the main reasons that many traders move over to forex trading after starting off in the binary option arena.

*Trading bonus are not eligible for clients registered under Trading Point of Financial Instruments Ltd";
Make a Distinction between Genuine Bonus Offers and Scams
If you have been recently looking for a broker who offers no-deposit bonuses, but you are not sure if the broker is just luring you in with the generous bonus offer, make sure to follow the following tips:
1. Investigate the broker's overall policy and business. The best brokers will have a bunch of information available about their conduct and dealings.
2. Search the Internet for customer feedback. You can find the first-hand experiences of other traders on different fora, and this will give you a much better insight into the particular broker's dealings.


3. Read the Bonus Policy. If you think that a bonus must be a scam and that it is too good to be true, contact the broker for the Bonus Terms and Conditions (if they are not available on the website). If the broker does not seem to give clear information and instructions to follow, you should probably avoid signing up with that broker. Decent brokers are not afraid to tell you what they are expecting from you in order to claim your bonus.
4. Ask around. Ask any friends, family members or acquaintances who trade in the binary options market. They will give you reliable and trustworthy first-hand information. Given that the business grew out of proportions, it is not at all unlikely that you could know someone trading binary options.
Conclusion
The no-deposit bonus is a type of welcome bonus and can be used only once. It is a great additional trading credit backup for every trader who has just started trading. The above-given review has summarized bonus requirements showing that the bonuses come with a certain commitment and obligations. Traders also have to understand that brokers cannot simply give away money without asking something in return. As a trader, you are required to follow instructions, but if the instructions are not clear enough and are vague, you are better off staying away from that type of an offer. Lastly, there is a clear distinction between the practices of a forex broker and a binary options broker. EU regulators have looked at the industry and established that it is not favorable to offer these products anymore. This is the main reason that traders are moving back to forex trading, do your own due dillagence and make an informed decision I hope this guide helped.
Top 3 Forex Brokers 2020