Many people consider ECN Forex brokers to the way of the future of Forex trading as they have an especially innovative way of operating. The initials ECN stand for the words Electronic Communications Networks as this refers to the way that these brokers work, using modern ECN electronic technology to connect investors directly with the other major participants in the world of Forex trading, the global banks, and other major financial institutions.
Sometimes people refer to ECN Forex brokers as STP brokers, which stands for Straight Through Processing. This is referring specifically to the fact that ECN Forex brokers, unlike other types of Forex brokers, do not make their money from the spreads that they offer but instead levy a small commission on every financial transaction that is traded. Using an ECN Forex broker can enable investors to make good profits and also to actually forge a steady and successful financial career out of their trading.
ECN Forex trading has risen from the increase in the popularity of utilizing the internet to process financial and investment transactions and ECN are ideal as they eliminate the requirement for a middle man, putting brokers and traders in direct contact from different locations. Top ECN Forex brokers enable investors to access multiple liquidities in the market and give them the best choice of top online trading platforms.
What Exactly are ECN Forex Brokers?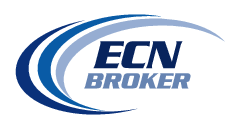 ECN Forex brokers are merchants who have no trading desk of their offer to supply to their investors. Instead, they offer a computerized trading environment which allows for tighter spreads and better access to greater liquidity in financial markets. Spreads start at 0.5 pips, although these depend on the currency pairings being considered. Top ECN Forex brokers are very sought after because of their low commission rates on financial transactions.
How Does Trading Through ECN Forex Brokers Work?
It is possible for ECN Forex brokers to access up to the minute market prices from all the major foreign currency exchange market participants including the biggest financial institutions and global banks. They then choose the best prices and spreads and supply them to their own registered traders. Investors then place their order through the ECN broker's trading platform and their order is passed immediately to the provider concerned. This facilitates rapid trading and allows a faster access to gained profits as well as ensuring that conflicts of interest are effectively eliminated.
How do you Choose From Among the Best ECN Forex Brokers?
It can be tricky to make a decision about which ECN Forex broker to choose as there are many of them now emerging into the money markets, each with its own advantages and disadvantages. Many of these brokers are unregulated however which makes making a choice more challenging.
It is important to look for a reliable ECN Forex broker that is regulated and with a reputation for being trustworthy and secure. It is also vital to weigh up all the advantages and disadvantages of each broker's user experience before making a final decision.
A high-quality customer support team is among the most important factors when making your choice as you will require access to efficient and professional staff who can answer questions and resolve issues as quickly as possible. Choose an ECN Forex broker who offers multi-lingual support staff that can be contacted via a range of methods including telephone, email, online chat, and even sometimes Skype. The longer hours the customer service center is open, the better.
You may also want to consider the varying types of tradable assets offered through ECN Forex brokers. If you think that you may wish to expand your horizons at some future time from just trading in foreign currency pairs to other types of asset such as commodities, energy products, precious metals, stocks, equities or CFDs, you should pay attention to the top ECN Forex brokers who will usually offer a range of options.
You should also consider the types of trading platforms that each ECN Forex broker offers to their investors as this is a major part of the user experience. You will almost certainly want to choose ECN Forex brokers who offer trading platforms that are accessible and user friendly, suited to all types of investors, and featuring excellent analytical and charting tools that can be customised to suit individual requirements. It may also be important to you to find out whether the trading platforms available are able to be accessed while on the go through mobile devices and smartphones as well as requiring software downloads to PCs.
The leverage on offer may be an important factor, however, you should be aware that generally, ECN Forex brokers offer lower leverages than other types of Forex broker. The average is usually around 1:100, but the advantage of choosing ECN Forex brokers is that you are able to trade with fractional lot sizes.
Best ECN Brokers 2020
What Features set ECN Forex Brokers Apart From Other Types of Forex Broker?
There are several advantages of choosing to use an ECN Forex broker over the other types as they offer their own unique way of Forex trading that enables different traders to participate at the same time.
Anonymity is probably the biggest benefit of choosing to use ECN Forex brokers. All financial transactions remain completely anonymous while being safe and secure whether they are purchasing or selling currencies. This is ideal for any investor who values their financial privacy as no transaction can be traced by to the perpetrator and no details about financial instruments or trading accounts is shared to a third party.
Investors are able to become their own market maker when they choose to use an ECN Forex broker. Each trader can place their own orders between the ask spread and bids and thanks to their client to bank trading system, it is possible for investors to trade using the main Forex banks' streamlined prices.
ECN Forex brokers also boast a sophisticated trade execution which allows investors to make rapid profits regardless of any volatility in the financial markets.