There are many inexperienced traders joining the Forex market daily. While it's very positive to go through and educational system and work on your trading style and strategies, learning from your mistakes and losses, many traders simply don't have the time or the funds to do so. There are many signaling services and account managers to help your trading and learning process. You can open a managed account with many prominent and reliable brokers operating with different money management systems.
What's PAMM?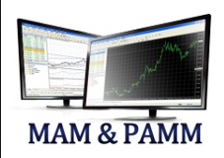 PAMM is Profit Allocation Money Management and it practically means that each successful trade on the managed account takes percentages of the profit to different investor accounts. The account managers usually also trade their own funds here and there is a publically available Top manager list, which both make this a very appealing system to the investors.
What's LAMM?
LAMM stands for Lot Allocation Money Management allocates the percentages of opened lots to investor accounts, which allows active monitoring at any time. There are some issues connected to this type of managed accounts, such as often miscalculation or simple rounding of the numbers which can lead to misunderstandings and mistakes.
What's MAM?
MAM means Multi Account Management and allows controlling multiple accounts with different conditions on just one trading platform. This often means having access to both advanced charts and analysis tools and can pretty much include both PAMM and LAMM principles which means you need to investigate what it actually comprises of when opening such an account.
Why use managed accounts?
There one obvious and the most prominent reason why any trader would open a managed account – the success rate. Most novice and even experienced traders have to devote much time to developing strategies, methods, and analyzing their trades in order to achieve consistency and a viable success rate. With a managed account you get some more freedom, together with safety and transparency it offers. Employing a professional and tested account manager means more secure trades, with less time but still full control over the situation as you are able to see the trades and the balance at any point. While there are many positive experiences with the technologies, this seems an effortless and profitable method especially for new traders working with essentially successful traders/account managers who can trade with all investors' accounts as if controlling one big account. There are, of course, considerable costs to the service and this should be taken into consideration when choosing to set up such accounts.

*Trading bonus are not eligible for clients registered under Trading Point of Financial Instruments Ltd";
The Best Forex Brokers offering PAMM, LAMM, and MAM
FXDD
FXDD is a New York based Forex broker offering its services since 2002. With an amazing customer base and great client care and support in many different languages, FXDirectDealer provides a global high-quality Forex trading experience. Trading Forex with the broker includes all major USD pairs topped with more than 20 other currency pairs. The broker offers trading with their propriety Swordfish trading software as well as MetaTrader4 and other platforms. FXDD supports MAM / LAMM accounts with a minimum deposit of $2000. Setting up conditions is an easy process through their support with real-time positions and reporting as well as full control over your funds.
ICMarkets
IC Markets was founded in 2007 and offers its services to a global customer base, being regulated by ASIC (Australian Securities and Investments Commission). The broker offers accounts in all major currencies, with a minimum deposit of just $200 or equivalent. There is a wide range of available deposit and withdrawal methods including bank transfers and all major debit and credit cards as well as e-wallets. The broker provides access to great spreads in a range of over 60 major currency pairs, as well as a number of indices and commodities. Providing professional conditions and a multi-lingual customer support, IC Markets proved as one of the most prominent Forex brokers. IC Markets will allow opening a MAM / PAMM account with just a $200 initial deposit. There is also a free Demo account to check the market and try the features in offer.
IronFX
IronFX was founded in 2010 and it has since become one of the reputable and best-know Forex brokers in the world. The broker is regulated by the Cyprus Securities and Exchange Commission and offers high liquidity in a top-class Forex trading service. The company is thus strictly regulated and shows high transparency and consistency in the industry. IronFX has also become an official sponsor to Barcelona FC in 2014 showing the financial power and the serious plans for the future too. IronFX offers MAM/PAMM accounts with a minimum deposit of $500 in the Web Trader trading platform. The broker allows full control through online activity reports as well as EA compatibility for the account managers.
Final words
Managed accounts definitely are an easy way into Forex trading for all new and less-experienced traders. While still holding full control over their accounts, the traders will now allow an experienced trader or an account manager to execute trades on their behalf. There are different systems, but the investor is generally allowed to keep close track of the trades made and ask for consistency, with open opportunities to learn the style and strategies too. On the other hand, this takes a huge portion of the back, providing already made analysis and constant monitoring assuring the trades made are profound and ultimately profitable.
Other Forex Accounts
Top 3 Forex Brokers 2020