Founded in 2015, NAGA is a fintech company that provides financial services with high-quality technology to all customers around the world. The broker managed to establish itself as one of the best brokerage companies in the Forex industry and is a decent FX company.
In addition to offering Forex trading services, the company focuses a lot on crypto trading as well. The broker is fully licensed by the Cyprus Exchange and Securities Commission. We will have a look at further characteristics and features of the broker below in our NAGA review.
Is NAGA.com a Legit FX Brokerage?
When we talk about Forex brokers, the license plays a pivotal role, as it is a document that ensures the legitimacy of the brand. NAGA is a brand owned by NAGA Markets Ltd, which is authorized and regulated by the Cyprus Securities and Exchange Commission as a Cyprus investment firm. It is registered in Limassol, Cyprus.
There is a lot of information on the website, which is always a benevolent sign for investors. We read that the company behind the broker is licensed by Cysec as an investment company with license no. 204/13. After checking with the online register of the regulatory authority in Cyprus, we can confirm this information so that it is accurate and not misleading. In fact, the brokerage is regulated and this should be seen as a huge advantage.
Compliance with the CySEC rules by a broker gives many guarantees to potential clients. One of them is participation in the Investor Compensation Fund, through which clients can expect to receive compensation in the amount of up to 20,000 Euros if they incur losses in the unlikely event of a bankruptcy of the broker. Another safeguard is segregated accounts, which forces the broker to process clients' finances separately from their own funds. This greatly reduces the risk of potential fraud.
NAGA.com Trading Platform
At the present moment, there are 5 different trading platforms available on the broker's website: MetaTrader 4, MetaTrader 5, NAGA Web App, NAGA iOS App, and NAGA Android App. As we can see, users can choose between several platforms and make the most of their trading.
Different platforms have various advantages compared to the other one. For instance, if you download the NAGA app on your iOS or Android device you will get access to numerous features from auto copying to the news feed, where you can check different information regarding market movements.
An interesting feature of the NAGA FX broker is the social trading platform they provide to clients. Potential clients have access to multiple investors that they can follow and choose to auto-copy their trades. Such a platform allows investors to invest their own funds in investors they trust, which can bring them profit. Clients can see how many followers an investor has, how many deals he has made, and the size of his profit and loss. This is not a common feature among brokers and should count as an advantage.
NAGA.com Account Types
There are 7 different types of accounts on NAGA: Iron, Bronze, Silver, Gold, Diamond, and Crystal. Each of these accounts starts from the lowest level and goes to the highest one which is Crystal. Minimum deposit requirements are different for every account as well as trading terms and conditions. When you reach the latest level you will get the best trading experience.
In addition to standard live accounts, the broker also has demo accounts available for novice traders. If you want to avoid risking real money you can use the demo account and start trading in a virtual environment. Winnings from demo accounts are not real of course as well as losses. However, demo accounts are available for a limited time.
Another interesting feature is the Social Trading account, which gained massive popularity in recent years. With the help of auto copying you can copy other traders' positions and in such a way make more profits.
NAGA.com Trading Instruments
NAGA is a perfect broker for those who want to try out different trading instruments. Besides offering Forex trading, you can also trade with stocks, indices, CFDs on stocks, cryptocurrencies, commodities, ETFs, and futures.
Depending on the type of trader you are, you can use all instruments with decent conditions. For example in stock trading, there are no commissions and hidden fees. The execution of orders is provided at high speed, which makes the broker one of the most advanced ones. We can also note that in Forex trading almost every popular currency pair is present.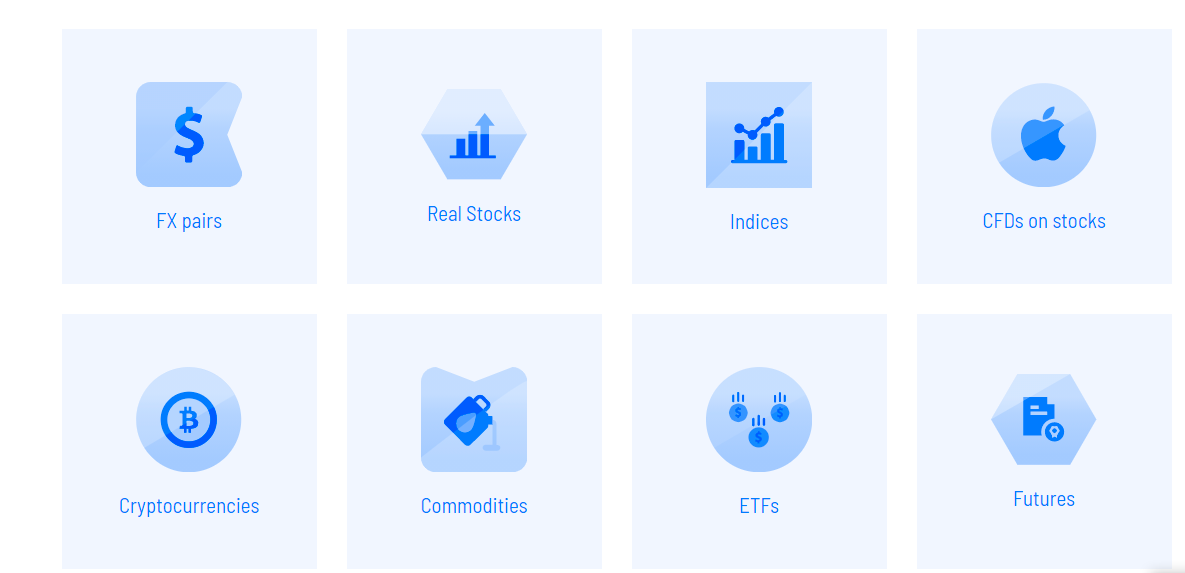 NAGA FX Broker Commissions and Leverage
NAGA offers its clients a spread of 1.2 on EUR / USD. The size of the spread is especially important as it determines the cutoff that the broker gets from any potential profit a client might receive. While this may seem insignificant in a single transaction, over a long period of time such small differences can add up to a significant amount. Simply put: the lower the cut, the higher the profit.
Maximum leverage
NAGA Forex broker offers the same leverage for all account types – 1: 1000. It should be noted that in the USA and Japan there are limits on the maximum possible leverage that can be offered by brokers: 1:50 and 1:25, respectively.
High leverage of 1:1000 should be seen as a double-edged sword. On the one hand, this increases the purchasing power of the investor, and on the other, it increases the risk. Therefore, the trading world is moving more and more towards limiting the maximum possible leverage.
NAGA provides its clients with a variety of financial markets in which they can participate. Clients can trade CFDs on currency pairs, cryptocurrencies, stocks, indices, and more. Trading diversification is always a plus, as it attracts new potential investors and also provides them with new market opportunities.
NAGA.com Bonuses
At the present moment, there is no bonus on NAGA. However, the broker does have a very interesting offer for copy traders. As we have already mentioned above, copying trades is a possibility on the broker's website, which allows rookie traders to copy trades from experienced investors. In such a way, if more customers copy your trades, you will get a certain percentage of the bonus, depending on the type of account you are using. The rates are different for various account types, thus you can check the conditions in advance.
NAGA Deposits and Withdrawals – what Options are available?
The minimum deposit required for the main account is $250. While clients can rest assured of the legitimacy of the brokers as this is CySec regulated, this is still a large amount that can put off newbie investors who are not willing to take on such large sums.
In general, NAGA FX broker offers numerous methods from deposits and clients can have access to a wide ranger of possibilities. You can use, Visa, Mastercard, Maestro, Wire Transfer. Deposits are instantaneous and the minimum amount required is $250. As for maximum deposits, there are no specific restrictions and everything depends on your location. Transactions are highly secure and follow standard protocols that ensure the safety of deposits.
In order to withdraw the money from your balance, first, you need to verify your account and the payment method. The minimum amount of withdrawal is $50 or equivalent in other currencies. The broker does take additional commission which is roughly $10, but this is a very small amount. You can also withdraw the money to your crypto wallet.
Requests for withdrawals are usually processed for several days. Also, withdrawals tend to take much longer depending on your location. Bank transfers are normally longer than other methods.
NAGA.com Customer Support
When we talk about brokerage companies it is necessary to point out customer support, which plays a massive role in attracting more customers. The customer support on NAGA.com is available both by phone and live chat. The chat is accessible 24 hours 5 days a week. The support team is friendly and ready to answer any questions immediately. There are several languages available for contacting and customers from different locations can access the information they need in their native language.
Pros/cons
Here are some of the pros and cons that we can point out regarding the NAGA FX broker.
Pros
Decent customer support
Multiple accounts;
Fast deposits and withdrawals;
Copy-trading
Cons
Conclusion
NAGA is a Cysec regulated broker that offers countless benefits to potential clients. The minimum deposit of $250 is a bit high, but the broker makes up for this with strict compliance with the highest regulatory standards, a guarantee of the safety of client funds, very low spreads, and an attractive social trading platform that allows investors to follow and auto-copy other successful investors. The leverage is also reasonable. In general, NAGA provides favorable conditions for potential clients, and we see no reason why investors should not give a chance to a broker.