Forex trading has become very popular with traders and enthusiasts around the world. Forex is thus widespread and serves traders from different cultures and religions. However, fitting all the customers is never easy for a platform and there are many specific features brokers provide to satisfy all needs. This usually means offering great customer care with support in many different languages and available at any time of the day, with regard to cultural differences. When it comes to religious differences among traders the focal point is Muslim traders who are restricted from earning on interest.
What are swap-free accounts?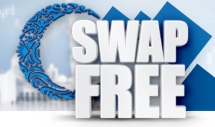 Swap-free accounts are specifically intended accounts for Muslims, who are actually not allowed to receive swaps. According to Shariah law, they are not allowed to earn interest and profit, which is obviously applied to Forex too. Also named Islamic accounts, they offer interest-free Forex trading which enables Muslim traders to actively engage without breaking any of the religious laws. The Islamic account types vary among brokers and the offers include accounts with no rollover, premiums, and/or interest while some brokers charge special fees for trades executed on Islamic swap-free accounts. Some brokers will allow all traders to open a swap-free account if they would like to, while other companies require personal information proving your religion and the actual need for such an account.
Why would you use a swap-free account?
Swap actually takes place because of the exchange rate fluctuation with positions transferred overnight. Islam strongly and fundamentally denies such an approach and while there are many open discussions it's clear that this breaks the Shariah rules. Swap-free accounts, on the other hand, comply with Shariah and make it possible for Muslim traders to join. This is very handy and convenient, especially for long-term traders who employ such strategies. Swap-free trading provides an opportunity to employ a long-term trading strategy with no losses due to the positions open for multiple days. For that reason, there are many non-Muslims who will gladly use the swap-free accounts when possible even if executing those trades actually means paying one-time fees.
*Trading bonus are not eligible for clients registered under Trading Point of Financial Instruments Ltd";
Forex brokers with swap-free accounts
CM Trading
CM trading was founded in 2012 in South Africa. The company provides a genuine trading experience and many unique features that make trading with them an easy and effortless experience. They provide top-class services for both experienced and novice traders with educational materials, training, demo account with all account types and a helpful customer support. Regulated by Financial Services Board, traders with CM Trading enjoy safety and high-performance trading platform. Islamic trading accounts with CM trading hold no interest costs or hidden fees, as they are truly freed of swap and compliant to the Islamic Shariah laws. Traders can be sure they are not cheated into breaking their religious beliefs being misled.
Instaforex
Instaforex was founded in 2009 in Russian Federation and is authorized and regulated by CRFIN. The broker is thus already long-standing with a big customer base and offers great quality in both features and currency pairs offer. Instaforex also offers swap-free accounts, where you cannot lose on the open positions, with no regard to the volume and only the exchange rate is essential. You can easily set up and get more details on swap-free accounts with the broker when opening a new trading account. However, if you already have an account you will have to contact the customer support to be granted the access to a swap-free account. If you do so, all other terms and conditions will remain applicable.
IronFX
IronFX is a Cyprus broker offering high-quality Forex trading services to a worldwide customer base. Being regulated by Cyprus Securities and Exchange Commission, the broker offers friendly and competent customer support, fund safety and security as well as many currency pairs with good spreads and high liquidity. The broker offers swap-free accounts to Muslim customers only. IronFX is well-known for the transparency and the rules are rather straightforward. No swap or any fees will be charged for positions open for less than ten days, while positions open for a longer period will be charged a fee according to the easily accessible rules which can also be discussed with the support.
Final words
The swap-free accounts are great as they actually provide Forex trading services to Muslim traders. This Shariah-compliant trading will allow traders to actively engage in the Forex market with no interest and rollover. This issue is widely recognized and there are many Forex brokers who allow Islamic accounts. Some of the brokers will take fees on such trades while others will widen spreads, charge commission or margins. However, a specific law will also prohibit trading and speculation with high risks, which is far more arbitrary in understanding. Interest-free actually means that brokers will allow you to trade with no regard of exchange rate fluctuation. However, many argue that if unprofitable brokers will take away the swap-free privileges too with no regard to your religious beliefs. These cases are isolated, though and don't represent a general opinion among traders which is why we chose only reliable brokers offering swap-free accounts. While this is a preferable option for Muslim traders, there are advantages all traders could use but should be careful with. The Islamic accounts can be used for arbitration and taken advantage of with different long-term strategies, which is monitored and usually banned by all brokers allowing such accounts.
Other Forex Accounts
Top 3 Forex Brokers 2020